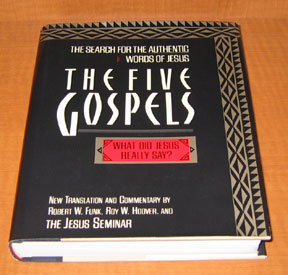 * Did Jesus claim to be the Messiah?
* Did he promise to return and usher in a new age?
* How did Jesus envision the kingdom of God?
* Did he commission his disciples to convert the world and establish a church?
The Five Gospels
answers these questions in a bold, dynamic work that will startle traditional readers of the Bible and rekindle interest in it among secular skeptics. In 1985 the Jesus Seminar, a distinguished group of biblical scholars led by Robert W. Funk and John Dominic Crossan (co-chairs), embarked on a new assessment of the gospels, including the recently discovered Gospel of Thomas. In pursuit of the historical Jesus, they used their collective expertise to determine the authenticity of the more than 1,500 sayings attributed to him. Their remarkable findings appear in this book.
Each saying attributed to Jesus is color-coded and presented in a completely new translation of the Greek and Coptic texts. In the judgment of the Jesus Seminar: